Constructing Marcus by Danielle DeVor
Maer's Review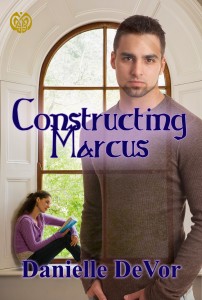 I was pleased to read Constructing Marcus as part of Daneille DeVor's Book Tour. And what a fun read this was! From the first pages I was hooked into sixteen-year-old Emma's life. With her penchant for ghost hunting, dealing with a mother's illness and a move to a new city and home, our young heroine grabs you up and takes you on her journey of exploration and discovery. This isn't just a paranormal novel where Emma sleuths to track down the secret of the house and its unusual resident, but it's also a coming of age novel. Emma discovers depths of her own in this intriguing book.
DeVor has captured the essence of a teen dealing with the paranormal shes always wanted to find. The pace is fast, the characters interesting and story engaging. DeVor's writing is crisp and the first person narrative works perfectly to draw in the reader. Descriptions are just the right amount for a Young Adult novel, and give an outline that allows the reader to fill in the rest with their own imagination.
Sweet without becoming saccharine, Constructing Marcus is a perfect read for a Sunday afternoon.


Welcome to the Book Tour & Giveaway for Constructing Marcus by Danielle DeVor. You can find Danielle's complete tour schedule at MythBehaving Book Tours.
Read on for more about Danielle and Constructing Marcus…

Sixteen-year-old ghost hunter, Emma Hoffman thought that moving into an old Victorian was going to be awesome– ghosts galore.
Much to her delight, she discovers that the house is haunted—not by a ghost, but by a construct (a spirit created to be a servant). As she gets to know Marcus, the construct, he asks her to help him avenge his maker and find her killer. Emma's not too sure this is a good idea, she's a ghost hunter after all, not a detective, but she agrees to help him anyway.
While trying to discover more information about the killer, Emma begins to have feelings for Marcus- feelings she isn't ready to admit. Then the sorcerer who killed Marcus's maker shows up at Emma's house with an insane plan to capture Marcus and absorb his power- Emma isn't having it. Marcus is hers.
When the killer performs a spell that begins to steal Marcus's life force, Emma risks losing him. It's a race against time for Emma to figure out how to stop the sorcerer and his spell before Marcus fades away and disappears from her life forever.

Danielle DeVor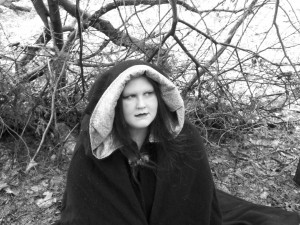 Danielle DeVor spent her early years fantasizing about vampires and watching "Salem's Lot" way too many times. After living briefly in Baton Rouge, Louisiana, she moved back to her hometown to write. When not writing and reading about weird things, you will find her hanging out at the nearest coffee shop, enjoying a mocha frappuccino.
Danielle has been on a writing roll this year! With the release of Tail of the Devil, Constructing Marcus and Sorrow's Point she already has three books out.
You can find Tail of the Devil
 and Sorrow's Point at Amazon.
Buy Links for
Constructing Marcus


 Giveaway
Win one of two prizes:
ONE – $10 Amazon Gift Card
ONE – eCopy of TAIL OF THE DEVIL by Danielle DeVor
Must be 13+ to enter.
You can follow Danielle at these links:
This tour is brought to you by