Podcast: Play in new window | Download (Duration: 59:34 — 55.0MB) | Embed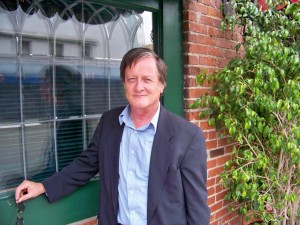 I was almost giddy with excitement over our first guest, Tim Powers. Okay, fine, I was totally giddy, as you can tell from my giggling like a schoolgirl. I'll tell you a secret: I thought my mic was muted and was just enjoying Tim's answers. It turned out that my mic was live the whole time.
It was a fun interview and I can't think of a better way to start our podcast series than with Tim. I've actually known Tim since we were in college together and it was fun to catch up. Carla had a lot of fun, too. I do think she should have giggled more, though.
Want to know more about Tim? Read on…
Here's a taste of some of the questions we asked Tim and part of his answers from MythBehaving Episode #1:
CC: Do you ever get writer's block? If so, what do you do to get out of it?
TP: Oh yeah, I think I have writer's block every morning. (Laughter.) …So, really writer's block, I think, is discouragement at the crappiness of the first draft…
MW: OK, Tim, talk to us about steampunk.
TP: … it kind of went nowhere at that point. It just dropped with no echoes. But then a few years later, people picked up on it and began to write books deliberately set in Victorian London or similar places…
Want to hear the rest? You can listen right here or download the episode from iTunes to listen to on your phone or MP3.
 About Tim Powers
Tim Powers was born in Buffalo, New York, on Leap Year Day in 1952, but has lived in southern California since 1959.  He graduated from California State University at Fullerton with a B.A. in English in 1976; the same year saw the publication of his first two novels, The Skies Discrowned and Epitaph in Rust(both from Laser Books).
Powers's subsequent novels are The Drawing of the Dark (Del Rey, 1979), The Anubis Gates (Ace, 1983, winner of the Philip K. Dick Memorial Award and the Prix Apollo), Dinner at Deviant's Palace (Ace, 1985, winner of the Philip K. Dick Memorial Award), On Stranger Tides (Ace, 1987), The Stress of Her Regard (Ace, 1989), Last Call (Morrow, 1992, winner of the World Fantasy Award), Expiration Date (Tor, 1996), Earthquake Weather (Tor, 1997), Declare (Morrow, 2001, winner of the World Fantasy Award), Three Days to Never (Morrow, 2006) and Hide Me Among the Graves (Morrow, 2012).
Powers has taught at the Clarion Science Fiction Writers' Workshop at Michigan State University, and has variously co-taught the Writers of the Future Workshop with Algis Budrys, Orson Scott Card, and K. D. Wentworth. Currently he teaches one class a week at the Orange County High School of the Arts in Santa Ana, California.
Powers is married, and lives with his wife, Serena, in San Bernardino, California.
You can find Tim at several places on the net:
Tim Powers on Facebook
Tm Powers Yahoo Group
The Works of Tim Powers
And you can buy Tim's books through the referral links below:
Paperback
Kindle
Music Credits:   Various stings by Kevin MacLeod (incompetech.com) Licensed under Creative Commons: By Attribution 3.0 http://creativecommons.org/licenses/by/3.0/
Intro & Exit Music by General Fuzz www.generalfuzz.net