Podcast: Play in new window | Download (Duration: 1:14:14 — 68.4MB) | Embed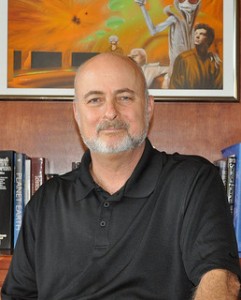 Award-winning author David Brin is a scientist, futurist and our guest here at MythBehaving. I've been a fan of his novels for a very long time and it was an honor to get to interview him.
About David Brin
As a scientist/futurist, David is seen frequently on television shows such as The ArchiTechs, Universe, and Life After People (most popular show ever on the History Channel) – with many appearances on PBS, BBC and NPR. An inventor with many patents, he is in-demand to speak about future trends, keynoting for IBM, Google, Procter & Gamble, SAP, Microsoft, Qualcomm, the Mauldin Group, and Casey Research, all the way to think tanks, Homeland Security, and the CIA.  (http://www.davidbrin.com/speaker.html)
With degrees from Caltech and the University of California-San Diego, Dr. Brin serves serves on advisory panels ranging from astronomy, NASA innovative concepts, nanotech, and SETI to national defense and technological ethics. His nonfiction book The Transparent Society explores the dangers of secrecy and loss of privacy in our modern world. It garnered the prestigious Freedom of Speech Prize from the American Library Association. (http://www.davidbrin.com )
Read on for more about David Brin!
About Existence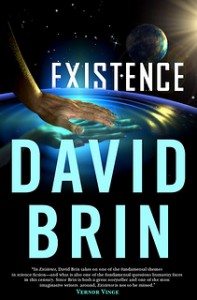 Gerald Livingston is an orbital garbage collector. For a hundred years, people have been abandoning things in space, and someone has to clean it up. But there's something spinning a little bit higher than he expects, something that isn't on the decades' old orbital maps. An hour after he grabs it and brings it in, rumors fill Earth's infomesh about an "alien artifact."Thrown into the maelstrom of worldwide shared experience, the Artifact is a game-changer. A message in a bottle; an alien capsule that wants to communicate. The world reacts as humans always do: with fear and hope and selfishness and love and violence. And insatiable curiosity.
Excerpts from Episode 12
David on the term "futurist": "There are no credentials and there shouldn't be…"
David on science fiction: "There is a distinction to be made between a science fiction story or dystopian or post-apocalyptic…that is trying to actually address an issue that hasn't really been addressed in quite this way before…"
You can get David's books here:
Existence (Kiln Books)
Kindle                                                     Paperback
The Postman
Kindle                                                      Paperback
Earth
Paperback
Keep up with David at his links below: