Podcast: Play in new window | Download (Duration: 27:58 — 26.0MB) | Embed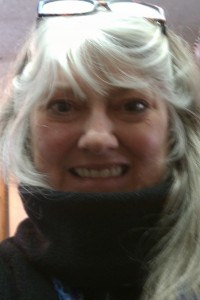 Author Diane M. Haynes is today's very special guest. Her YA Fantasy novel, Rift Healer, is a delightful and sometimes frightening romp through an Enchanted Forest.  Rift Healer was a YA finalist in the Gayle Wilson Award of Excellence. I thoroughly enjoyed this novel and getting to know Diane these past months has been loads of fun. She is another one of the fabulous authors from Crescent Moon Press who was so very kind to help me as I embarked on my own publishing journey.
About Diane M. Haynes
Diane Haynes grew up drawing, painting and sculpting. Writing was relegated to the occasional short story or reports written while working with disabled adults. Although she's written at least a dozen short stories over the years, most have been relegated to notebooks in a drawer.
She wrote Rift Healer between serving customers at her New Age shop during the months of April, May and June, 2009 and spent the next 18 months editing. Crescent Moon Press, the first publisher she submitted the book to, bought it.
Diane lives in Central MA. where she and her husband care for their Special Needs friend, Richard and two rescued Basset Hounds, Boris and Ruby, whose sad pasts do nothing to diminish their spirit or their willingness to be naughty.
Read on for more about Diane and Rift Healer!
About Rift Healer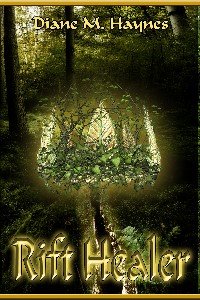 After a minor earthquake, the enchanted forest in Bidwell, MA, is infested with monster-spewing rifts.
Gisele's great nephew, the gifted Micah, and his distant cousin, Selena, arrive to assist. Together with Gisele's summer students, twins Haley and Lacey, they will try to help the magical forest.
Much to the consternation of the beautiful Selena, Micah identifies Haley as The One whom he'll share his future. But after witnessing a terrifying display of Micah's Gift, Haley cools to his advances and unexpectedly discovers her own Gift– she can heal the earth.
Monsters, mayhem, and teenage angst follow the small group as they confront evil in the forest and a dangerous prediction that 'one will fall'. Will they heal the rifts in time? Can they save the unicorns? And is Haley really destined to be with Micah?
Excerpts from Episode 13
Diane on where the idea came from for Rift Healer:  "I had a dream about seven months after my brother died in 2004 and the dream was about some kids in a meadow. And they were sitting in front of a treasure chest that had crystals in it…"
Diane  on world-building in Fantasy: "You can have whatever superpowers or limitations or whatever your like, however you have to follow that. And you have to make sure that you stick to it or else the reader feels cheated.
You can get Diane's books at the links below:
 Rift Healer
Kindle                                                                 Paperback
"Sirocco" (A Little Moon from Crescent Moon Press)
Kindle
You can stay up to date with Diane M. Haynes at the following links: