Podcast: Play in new window | Download (Duration: 40:56 — 37.9MB) | Embed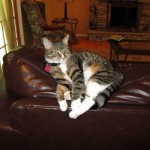 For our second episode, Carla and I got to interview camera shy Marlene Castricato, one of the founders of Crescent Moon Press. Of course, I'm little biased here, since CMP is my very own publisher, but they were my first choice even before I had a publisher, so I liked them even before I knew them. Did you follow that? Oh, and I do want to clarify that Marlene is not the cat pictured here, but is the cat's human parent.
Crescent Moon is a boutique publisher of science fiction, fantasy and the paranormal. Marlene has charge of the marketing arm and it was another fun interview for me and Carla. No, no, I didn't giggle quite as much as last time. Okay, so I really did do some giggling, but I had my mic muted this time. Hey, I'm learning!
For a taste of what Marlene has to say, read on…
Here's an excerpt from Episode #2, with just two of the questions we asked Marlene:
MW:  What do you look for when you first read a manuscript?
Marlene: Often authors will take their query letter and they will polish those first ten pages until it shines and sparkles, but they have not carried it through the entire manuscript…
CC: What sort of things do you want or not want in the initial query letter?
Marlene: The query should be well written…we would love to see the author's platform; what they've done…
Want to find out what else Marlene had to say? You can listen right here or download this episode from iTunes to listen on your MP3 player.
About Marlene Castricato
Marlene Castricato is the Marketing Director for Crescent Moon Press. A native New Yorker, she has also lived and worked in Europe, Africa and the Middle East. Marlene graduated from Hunter College with a major in English. She has developed and promoted events for UJA, JCCY and ASCE at Madison Square Garden, Lincoln Center and Carnegie Hall. Marlene has produced trailers and film sequences for both nonprofit and commercial ventures. She has also written copy and promotional material for Cunard Cruise Line. Marlene has a teenage son, a ten year old daughter and an eight-month old. She is a member of RWA and several affiliate chapters. The future is looking good!

 Crescent Moon Press can be found at the following sites:
Crescent Moon Press on Facebook
Crescent Moon Press on Twitter