Podcast: Play in new window | Download (Duration: 36:19 — 33.7MB) | Embed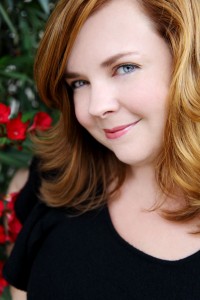 We were very happy to welcome Gretchen McNeil as our special guest for our third episode. Gretchen is the author of Possess and Ten. I've had the pleasure of interacting with Gretchen for the last year in an online writers' group we both belong to. One of the things that amazes me and that I admire tremendously about Gretchen is her savvy about the publishing industry. She really seems to have her finger on the pulse of what's going on. Make no mistake: this is one smart lady and she knows her stuff when it comes to writing and the industry.
Gretchen has a special MythBehavior. Listen to her interview to find out what it is!
But meantime, you can also get a couple of wise tidbits from Gretchen's interview, links to her books and social media by reading on…
Here's an excerpt from Episode #3, with just two of the questions we asked Gretchen:
MW:  Could you please share some of your marketing tips with our listeners?
GM:   One of the amazing things about the internet is that it's made the world a much smaller place…Nowadays…fans can interact with their favorite authors on Twitter, on Facebook, on their blogs and it makes a very personal connection between the writer and the reader…
MW:  Gretchen do you have any tips about getting an agent that you could share with beginning writers?
GM:  …Target agents who rep the kind of book that you wrote and follow their established criteria to the letter…
 About Gretchen McNeil
Gretchen McNeil is an opera singer, writer and clown. Her YA horror POSSESS about a teen exorcist debuted with Balzer + Bray for HarperCollins in 2011. Her follow up TEN – YA horror/suspense about ten teens trapped on a remote island with a serial killer – was released September 18, 2012, and her third novel 3:59 – sci fi doppelganger horror about two girls who are the same girl in parallel dimensions who decide to switch places – is scheduled for Fall 2013. Gretchen's new YA contemporary series Don't Get Mad (Revenge meets The Breakfast Club) about four very different girls who form a secret society where they get revenge on bullies and mean girls begins Fall 2014 with GET EVEN, followed by the sequel GET DIRTY in 2015, also with Balzer + Bray.  Gretchen also contributed an essay to the Dear Teen Me anthology from Zest Books.
Gretchen is a former coloratura soprano, the voice of Mary on G4's Code Monkeys and she sings with the LA-based circus troupe Cirque Berzerk. Gretchen blogs with The Enchanted Inkpot and is a founding member of the vlog group the YARebels where she can be seen as "Monday." She is repped by Ginger Clark of Curtis Brown, Ltd.
You can find Gretchen at the following links:
You can buy Gretchen McNeil's book through these links:
 Hardcover
Kindle
And don't forget to add Gretchen's forthcoming books to your To Be Read list!
3:59 (Balzer + Bray, Fall 2013)
GET EVEN (Don't Get Mad, Book 1, Balzer + Bray, Fall 2014)
GET DIRTY (Don't Get Mad, Book 2, Balzer + Bray, Fall 2015)