Podcast: Play in new window | Download (Duration: 44:24 — 41.1MB) | Embed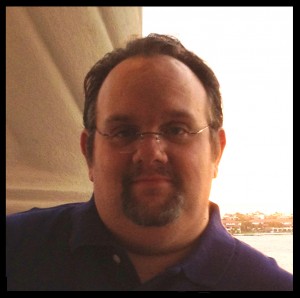 It's a pleasure to welcome Justin Macumber to the show! Justin is a perfect example of just how small the publishing world is. I actually know him through various groups, which wouldn't be odd if most of these groups were not rather small. It's fun to run into the same people in completely different places. Let's find out more about this talented author and podcaster. And give a listen to his awesome interview!

Justin Macumber
Justin Macumber is the author of Still Water, Haywire, and A Minor Magic. When not hard at work on his next story he hosts the popular Dead Robots' Society podcast. He and his lovely wife live in the Dallas/Fort Worth metroplex along with their motley pack of dogs and cats that they think of as their children. 
Read on for more about Justin and his work…
 Excerpts from Episode 34
Justin on beginning writers and first drafts: "The first pass, just get the story down. You don't have to make it pretty."
Justin on writing horror: "Horror is a bit different because it's a genre that requires a deep, emotional connection between the reader and a writer."

 Still Water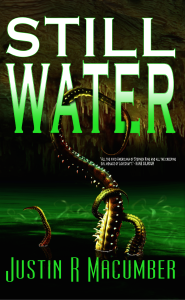 Coal is the hard, black heart of the mountain town of Stillwater, West Virginia, but far beneath it lies something much darker, an evil beyond time, waiting to rise and bathe the world in blood and fire once more. When unwitting miners dig into its tomb, only Kyle – Stillwater's prodigal son – and paranormal investigator Maya stand between humanity and Hell. Time is short and evil runs deep in… STILL WATER.
You can get all of Justin's books at Amazon. Here are a few:
Still Water
Kindle                                                       Paperback
Haywire
Kindle                                                      Paperback
A Minor Magic
Kindle                                                    Paperback
You can find Justin at these links: