Podcast: Play in new window | Download (Duration: 45:55 — 42.0MB) | Embed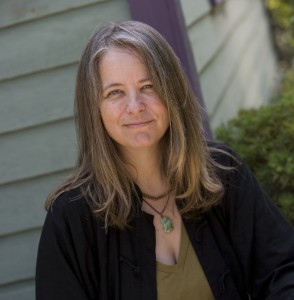 Our fifth guest is critically acclaimed author of Rock, Paper, Tiger and Getaway, Lisa Brackmann. One of the things I like best about Lisa is her passion. Whether it's helping a newbie author rewrite her query for the eleventieth time (yes, she did that for me) or talking about China or drug cartels, she is always completely engaged. She's intelligent and well-read and knows tons about a variety of subjects. That could be intimidating, but Lisa also brings a warmth and generosity of spirit that makes you feel right at home with her.
Read on for a few of the excerpts from Lisa's thoughts on a variety of topics!
About locations in books: "…My books tend to be very bound up with setting and bound up with place. And I don't think I could do a credible job if I hadn't been to the place that I'm writing about…"
About writing: "…I think it's very helpful to treat your writing like a job. That means don't depend on the muse to fill you with inspiration…"
About Lisa Brackmann
Lisa Brackmann's debut novel, ROCK PAPER TIGER, set on the fringes of the Chinese art world, made several "Best of 2010" lists, including Amazon'sTop 100 books and Top 10 Mystery/Thrillers. Her second novel, GETAWAY, a thriller in Mexico, was chosen as an ALA Summer Reading Pick and was a finalist for SCIBA's T. Jefferson Parker Award. Lisa's upcoming book, HOUR OF THE RAT, features the return of ROCK PAPER TIGER heroine Ellie McEnroe, on another wild adventure in today's China.
Lisa is a California native and a former film industry professional who has lived and traveled extensively in China.
About Rock Paper Tiger
American Iraq War veteran Ellie Cooper is down and out in Beijing when a chance encounter with a Uighur—a member of a Chinese Muslim minority—at the home of her sort-of boyfriend Lao Zhang turns her life upside down. Lao Zhang disappears, and suddenly multiple security organizations are hounding her for information. They say the Uighur is a terrorist. Ellie doesn't know what's going on, but she must decide whom to trust among the artists, dealers, collectors, and operatives claiming to be on her side—in particular, a mysterious organization operating within a popular online role-playing game. As she tries to elude her pursuers, she's haunted by memories of Iraq. Is what she did and saw there at the root of the mess she's in now?
Kindle                               Paperback
About Getaway
Michelle Mason tells herself she's on vacation. A brief stay in the Mexican resort town of Puerto Vallarta. It's a chance to figure out her next move after the unexpected death of her banker husband, who's left behind a scandal and a pile of debt. The trip was already paid for, and it beats crashing in her sister's spare room. When a good-looking man named Daniel approaches her on the beach, the margaritas have kicked in and she decides: why not?
But the date doesn't go as either of them planned. An assault on Daniel in her hotel room, switched cell phones and an encounter with a "friend" of Daniel's named Gary gets Michelle enmeshed in a covert operation involving drug runners, goons, and venture capitalists. Michelle already knows she's caught in a dangerous trap. But she quickly finds that running is not an option. If she's not careful, she'll end up buried in the town dump, with the rest of the trash. Now she needs to fight smart if she wants to survive her vacation.
Kindle                                Hardcover
You can find Lisa Brackmann at the following: