January Black by Wendy S. Russo
Maer's Review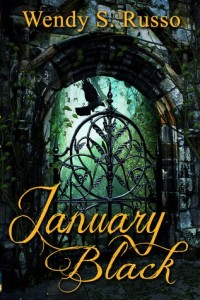 This is one of my favorite Indie/small press books that I read in 2013. The intriguing title is at the heart of this mystery, as sixteen year old Matty tries to answer a question for the king and earn his Master's. In an undisclosed world, he has been set a task by the king – discover just what "January Black" is. Clever, full of twists and turns and mysteries, Matty's journey to solve the riddle is also a coming of age story. With his interest in Iris and their growing friendship, it's also a love story.
I loved Russo's intelligent style, her intricate world-building and characters who seemed to leap off the page. There are so many rich details on every level of this novel: story, plot and character are layered and complex.
I was thoroughly drawn in immediately and was sorry when the book ended. I fell in love with this novel and can't wait to see what Russo has in store for us next. I highly recommend January Black!

Read on for more about January Black and Wendy S. Russo!

January Black
Sixteen-year-old genius Matty Ducayn has never fit in on The Hill, an ordered place seriously lacking a sense of humor. After his school's headmaster expels him for a small act of mischief, Matty's future looks grim until King Hadrian comes to his rescue with a challenge: answer a question for a master's diploma.
More than a second chance, this means freedom. Masters can choose where they work, a rarity among Regents, and the question is simple.
What was January Black?
It's a ship. Everyone knows that. Hadrian rejects that answer, though, and Matty becomes compelled by curiosity and pride to solve the puzzle. When his search for an answer turns up long-buried state secrets, Matty's journey becomes a collision course with a deadly royal decree. He's been set up to fail, which forces him to choose. Run for his life with the challenge lost…or call the king's bluff.

Wendy S. Russo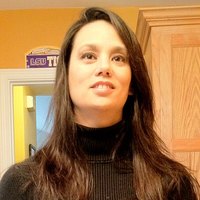 Wendy S. Russo got her start writing in the sixth grade. That story involved a talisman with crystals that had to be found and assembled before bad things happened, and dialog that read like classroom roll call. Since then, she's majored in journalism (for one semester), published poetry, taken a course on short novels, and watched most everything ever filmed by Quentin Tarantino. A Wyoming native transplanted in Baton Rouge, Wendy works for Louisiana State University as an IT analyst. She's a wife, a mom, a Tiger, a Who Dat, and she falls asleep on her couch at 8:30 on weeknights.
You can buy January Black
 at Amazon.
You can follow Wendy at these links: