Lone Wolf Rising 
by Jami Brumfield
Simon's Review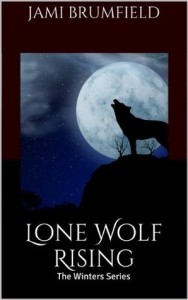 Lone Wolf Rising By Jami Brumfield is a wonderful breath of fresh supernatural air. Okay, the subject matter has been done to death by Twilight Series and Sookie Stackhouse Series, or so I thought. Jami has revitalised the teen supernatural genre with fresh blood by the gallons and has actually surpassed those illustrious more famous series by a mile, no make that a light year. This YA Paranormal novel is an absolute must read for all fans of werewolf, shapeshifter, vampire and witches.
Orphan Becca is a 17 year old wolf attending school in Arizona. Life is abruptly turned on its head when her pack is wiped out in a war with vampires. Now Becca is the new Alpha, so says the Authority, the rulers of the supernatural world.
Becca's life becomes even more complicated when she discovers she has two suitors for her love, Lucky and Gabriel. All this at 17. It's too much too soon for poor Becca, but she must handle it. Together they and Becca's siblings vow to avenge the death of the Arizona pack and Becca's parents ten years before.
Another revelation from Becca's grandmother adds more spice to the wonderful story – telling her she is also a witch spellbound against using her powers – that will keep the reader turning pages as fast as their need to discover the ending which in true brilliant fashion will leave the reader sighing for more.
So this reader and all like me are now champing at the bit for more.
This FIVE STAR Werewolffest with a classy difference is highly recommended and is a must read. Bring it on!

Read on for more about Jami and this intriguing book!

Lone Wolf Rising
Revenge has deadly consequences!
Rebecca Winters main goal for ten years has been to graduate high school and take down the people who killed her parents. When she stumbled upon a werewolf pack in the middle of Phoenix, Arizona she knew she found a way to make that dream come true. Instead of getting vengeance, an act of war has put her into a position of power and forces her to put her thirst for family justice on a temporary hold.
He is duty bound to protect her.
Lucian (Lucky) Lamont is a member of the Protectors, an elite supernatural police force that works for the Authority. Their main goal is to keep the humans in the dark about the creatures that live among them. Lucky is assigned to protect and manage Rebecca, despite her refusal of help. His cover is simple; he poses as the dutiful 'pretend' boyfriend in order to keep an eye on the new alpha wolf.
She is his mate.
Gabriel Black thought taking his pack back from the witch that was chosen as the new alpha would be simple. He thought wrong. His entire world was turned upside down the moment he met Rebecca at the Authority Council meeting and he was hooked the moment he kissed her to prove she was not dating his best friend, Lucky.
It's like being torn between two lovers.
Rebecca is pulled in hundreds of different directions while she attempts to find a way to survive the supernatural world, protect her family, and discover who massacred her entire pack days before her first transformation. She doesn't have time for romance, but the heart wants what the heart wants. And the wolf gets what the wolf wants – or so her alpha believes.
While Rebecca manages to keep her head above water as she unlocks political and family secrets that could destroy her, she loses sight of the most important people in her life and one of them pays the ultimate price.

Jami Brumfield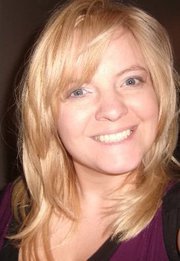 Jami M Brumfield has a passion for the paranormal, supernatural, and mythological worlds for most of her life. She believes there is a kernel of truth in every story and loves playing detective to discover what that hidden truth is. She has written most of her life. She started with poems and short stories, then graduated to journalism working for online websites like examiner.com. It was only a natural progression that her love of writing and her passion for the unknown would combine. Lone Wolf Rising the first book of the Winters series is the product of that union.
You can find Lone Wolf Rising (Paranormal Romantic Thriller): Winters' Family Saga (The Winters Series)
 at Amazon.
You can find Jami at these links: