My Kind of Crazy by Katie O'Sullivan
Danielle's Review
Katie O'Sullivan's My Kind of Crazy is a wonderful new contemporary romance ready to pull at your heart strings. This story hit many sweet spots for me- a strong female lead, a hot man who isn't too sensitive, and a puppy.
Kendall Roarke is a woman on a mission. Above all else, she's trying to save her bed and breakfast after an awful divorce. Enter Jonathan Reynolds, a hot new divorcee who also happens to be the new town vet, and sparks begin to fly.
There are so many good things I can say about this book that there isn't enough room to list them all, but the biggest thing that always stands out to me about O'Sullivan's writing: she has this amazing ability to inject a beautiful sense of sweetness into her stories that is rarely seen today.
My Kind of Crazy is a great book to add to your summer reading list. I can't wait to see what O'Sullivan comes up with next.

Read on for more about Katie and My Kind of Crazy!

My Kind of Crazy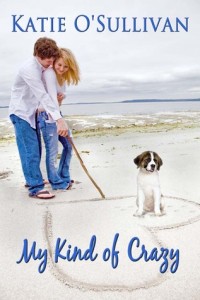 Kendall Roarke is betting everything on making her Harwichport Bed & Breakfast into the premier wedding destination on Cape Cod, despite her recent messy divorce. 

Jonathan Reynolds moved back to the Cape to take over his uncle's business and start fresh after his own marriage ended. He's not looking for anything complicated – until he meets Kendall, with her big plans and wild mop of curls. 

Throw an unruly foster puppy and an uptight new neighbor into the mix and things get a little crazy. Now Kendall has to decide if it's the kind of crazy that she can live with… for the rest of her life.

Katie O'Sullivan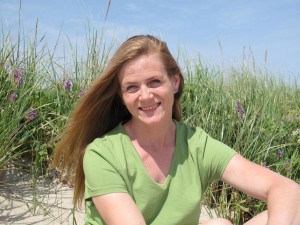 Katie O'Sullivan lives on Cape Cod with her husband, three kids and two big dogs. Katie drinks way too much coffee on a daily basis while sitting in front of her computer, dreaming up adventures for her characters and creating new excuses not to dust.
She writes romantic suspense and young adult fiction. Her third book, the young-adult fantasy novel SON OF A MERMAID, was published by Crescent Moon Press in May 2013. The sequel, BLOOD OF A MERMAID, will be coming from Crescent Moon Press in Spring 2014. Her next contemporary romance, MY KIND OF CRAZY, will be published by The Wild Rose Press in 2014.
In addition to writing, Katie works as a freelance editor and loves to help other authors make their words sparkle on the page. She writes a column about writing and editing for the Literary Women section of CapeWomenOnline magazine.
You can buy My Kind of Crazy
at Amazon.
You can follow Katie at these links: