Confessions of an Instinctively Mutinous Baby Boomer: And Her Parable of the Tomato Plant 
by Marsha Roberts
Simon's Review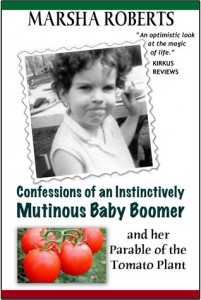 Confessions of an Instinctively Mutinous Baby Boomer: And Her Parable of the Tomato Plant by Marsha Roberts is an astounding work of literary genius. I freely admit to being a baby boomer and have had my mega ups and downs, but what separates me from Marsha is her life-affirming belief in God and that God is there for her every step of the way, even when someone has removed the last few steps and is waiting for her to fall. Marsha uses her unique voice and sense of humor, which I may add is wonderfully spread throughout the book, to send us on a fantastic journey, her private journey that we call life, full of heartfelt sorrow, uplifting joy and miracles that helped her overcome the dark moments in her tumultuous life.
Each chapter or parable is so entertaining and full of faith, brimming with Marsha's soul to the point I had tears streaming down my face on more than one occasion, only to find myself laughing a few pages further. What might have been a mundane story of every day life has been transformed into a documentary worthy of an Oscar.
I highly recommend this FIVE STAR family drama to everyone who might find there is more to life than just living it. A must read.

Read on for more about Marsha and her intriguing book!

Confessions of an Instinctively Mutinous Baby Boomer: And Her Parable of the Tomato Plant 
Remember when you were young and anything seemed possible? Being a girl and coming of age in the 1960's… if you weren't there it's hard to describe how magical it was. If you were there, you know exactly what I mean. We were sassy and bold and, yes, mutinous! Life felt quite charmed. And then one day it didn't anymore. I looked in the mirror and the twinkle in my eyes had disappeared. The magic was gone and I didn't have a clue as to how to get it back. The question was,where do you go to look for a twinkle?
Had it simply been youth, or was this mysterious and miraculous force still available now? I didn't know, but I had to find that stubborn, indomitable, fearless gal I had once been. I missed being her.
The answer came in the form of an unwelcome tomato plant that grew into a parable and eventually led to a spiritual journey I hadn't anticipated. Spiritual? Yes, no doubt about it, but essentially what I did was go in search of my twinkle.

 Marsha Roberts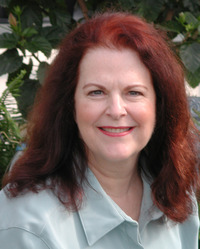 Marsha Roberts began her professional career as a scrub nurse in open-heart surgery, but her gypsy spirit would not leave her alone. At 23 she walked away from that life to travel and seek new adventures. She worked as an art director, a stage manager and film editor. Along the way she discovered a knack for selling creative projects and produced marketing films and elaborate Corporate Theatre presentations for IBM, Coca-Cola, Revlon, Georgia-Pacific and Domino's Pizza among others.
This led the way to developing and producing a full theatrical production, "Letters From the Front," which she toured for fifteen years all around the world. Her travels took her to Germany, England, Belgium, Italy, Spain, S. Korea, Japan, Guam and the Indian Ocean, plus virtually every major city in the states including Alaska and Hawaii — all with her kid in tow.
A few years ago, Marsha discovered she was STILL an instinctively mutinous Baby Boomer. Here's what she had to say about why she wrote this book, "I was a prototypical Boomer gal of the 60s – I expected to have it all! We mutinied against being put into a box like they did to our mother's generation. We mutinied against being told we couldn't. We knew we could! And we did. In the process, I got everything I dreamed of: love, a family, a great career, adventure and much more. Then, out of the blue I ran into the brick wall called survival. You know what I'm talking about, the seemingly endless tasks involved in trying to stay afloat when you know your boat is taking on water faster than you can bail it out. It's hard to stage a mutiny when you're drowning.
"And I did what just about everybody does, I dwelled on the mistakes I'd made, the choices that seemed right at the time but ended up leading to the current disaster, repeating endlessly "If I hadn't done blah-blah-blah, then such-and-such wouldn't have happened…" I did that for a while, which only made me more miserable and bored me to tears.
Then I decided it was high time for me to flex my mutinous muscles again and do the polar opposite. I started thinking back to when things had worked really well in my life and remembered how I got back on positive paths before. Some of what I uncovered I've shared in this book. These are my confessions. Many of them could only be described as parables, grand life lessons I had learned at the time, but then managed to forget. This time I wrote them down in "Confessions of an Instinctively Mutinous Baby Boomer and her Parable of the Tomato Plant" – an unlikely spiritual journey that's as magical as you'll let it be and as true as I can remember. I would love if the stories I share here help you uncover meaningful parables of your own. Perhaps you will also be guided to a previously unseen path full of angels and miracles and wondrous new possibilities. I hope so."
You can buy Confessions of an Instinctively Mutinous Baby Boomer and her Parable of the Tomato Plant
 at Amazon.
You can follow Marsha at these links: