Perfection Unleashed by Jade Kerrion
Lucy's Review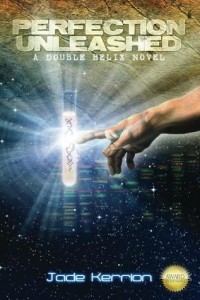 This book is one that could be easily become reality in the not even too distance future and it freaked me out, in a good way though. Even the far fetched plot lines were brought in a way that made them believable.
The characters were all more than well developed and even the general, unimportant, minor ones had traits not uncommon to mankind; i.e. The whole population is a reflection of our current state of mind, and behaviour patterns. Even the mutants are what you expect, and do not stretch the suspension of disbelief. They are all fleshed out fully and alive. I rooted for them, all of them, even the scary ones made me feel sorry for them. It were the humans, bar a few exceptions, that were despicable.
Plot? Great! I'm not going to give anything away but I will say that the conspiracy lovers will have a ball reading this book.
My one and only gripe is that it's the first in a series and I loath serialised novels, but on the other hand I'm glad that it doesn't end with this book because there's more to this story than just told in part one. I can imagine the whole complex woven tapestry with all its twists and turns couldn't fit into one book. By the by, it ends in a perfect cliff-hanger and I can't wait to read book two. Luckily it is available for download and I don't have to wait any longer than it takes to press 'buy now'.

Read on for more about Jade Kerrion and Perfection Unleashed!


Perfection Unleashed
Danyael Sabre spent sixteen years clawing out of the ruins of his childhood and finally has everything he wanted–a career, a home, and a trusted friend. To hold on to them, he keeps his head down and plays by the rules. An alpha empath, he is powerful in a world transformed by the Genetic Revolution, yet his experience has taught him to avoid attention.
When the perfect human being, Galahad, escapes from Pioneer Laboratories, the illusory peace between humans and their derivatives–the in vitros, clones, and mutants–collapses into social upheaval. The abominations, deformed and distorted mirrors of humanity, created unintentionally in Pioneer Lab's search for perfection, descend upon Washington D.C. The first era of the Genetic Revolution was peaceful. The second is headed for open war.
Although the genetic future of the human race pivots on Galahad, Danyael does not feel compelled to get involved and risk his cover of anonymity, until he finds out that the perfect human being looks just like him.

 Jade Kerrion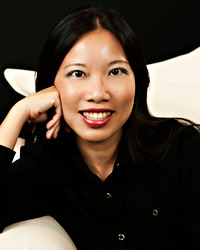 Jade Kerrion, an award-winning author, got her start in fan fiction. She developed a loyal reader base with her fan fiction series based on the MMORPG Guild Wars. She was accused of keeping her readers up at night, distracting them from work, housework, homework, and (far worse), from actually playing Guild Wars.
And then she wondered why just screw up the time management skills of gamers? Why not aspire to screw everyone else up too? So here she is, writing books that aspire to keep you from doing anything else useful with your time.
She lives in Fort Lauderdale, Florida with her wonderfully supportive husband and her two young sons, Saint and Angel, (no, those aren't their real names, but they are like saints and angels, except when they're not.)
You can buy Perfection Unleashed (Book 1 of the Double Helix series)
 at Amazon.
You can find Jade at these links: