Starshine by G.S. Jennsen
Danielle's Review
When one thinks of epic Sci Fi, the names Herbert, Bruin, and Asimov jump to mind. I think that G.S. Jennsen is getting close.
I must say, though, that this is not a book for people who expect lighthearted banter and funny aliens ala Star Wars. This is more traditional Sci-Fi.
In my opinion, the tech and world-building are the crowning jewels of this book. I didn't feel like I had to ask questions as to what things were, but the different technology wasn't presented in a hard to read way either.
If there is one flaw, I could have done without so many flashbacks. Some seemed a little redundant and bogged down the beginning of the story for me, but other readers could very well feel differently.

Read on for more about Starshine and G.S. Jensen.

Starshine: Aurora Rising Book One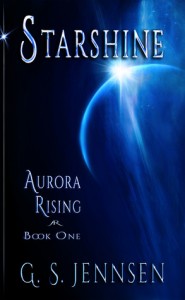 SPACE IS VAST AND UNTAMED, AND IT HOLDS MANY SECRETS.

Now two individuals from opposite ends of settled space are on a collision course with the darkest of those secrets, even as the world threatens to explode around them.

The year is 2322. Humanity has expanded into the stars, inhabiting over 100 worlds across a third of the galaxy. Though thriving as never before, they have discovered neither alien life nor the key to utopia. Earth struggles to retain authority over far-flung planets and free-wheeling corporations while an uneasy armistice with a breakaway federation hangs by a thread as the former rebels rise in wealth and power.

Alexis Solovy is Earth Alliance royalty, her father a fallen war hero and her mother an influential military leader. But she seeks only the freedom of space and has made a fortune by reading the patterns in the chaos to discover the hidden wonders of the stars.

Nothing about her latest objective suggests the secret it conceals will turn her life– not to mention the entire galaxy–upside down. But a chance encounter with a mysterious spy leads to a discovery which will thrust Alex into the middle of a galactic power struggle and a sinister conspiracy, whether she likes it or not.

G. S. Jennsen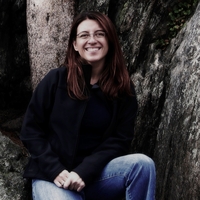 G. S. Jennsen is a science fiction and speculative fiction author, as well as a futurist, digital artist, geek, gamer and editor.
When she was 2, she informed her parents she would be learning to read now. When she was 4, she brought dinner-table conversation to a screeching halt by inquiring as to what they knew about the nature of infinity. The rest is, as they say, history. A long, convoluted history which wound across the U.S. and back again–and back again–through a shocking variety of windowless libraries, windowless corporate boardrooms and windowless engineering labs. She has been a corporate attorney, software developer and editor.
She lives in Colorado with her husband, who works as an electrical engineer, and their two furry, 4-legged children, Dagny and Kaylee. There are many windows in her home, half of which look out on the Rocky Mountains.
Starshine: Aurora Rising Book One at Amazon
Kindle                                                    Paperback
You can find G.S. Jensen at these links: