Podcast: Play in new window | Download (Duration: 49:43 — 45.9MB) | Embed
M. Joseph Murphy
It was especially cool to interview M. Joseph Murphy. I've had the chance to get to know Joe over social media and work with him on several projects. Not only is he a talented author, he is also the cover artist for my Modern Magics series. Yep, he did the entire series.

 M. Joseph Murphy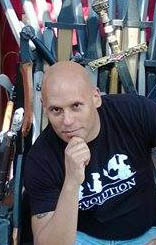 Joseph Murphy was born and raised in Ontario, Canada. He earned his geekdom at an early age. He read X-Men comics from at the age of 8 and it only went downhill from there.
As a teenager he wrote short stories and wanted to be the next Stephen King. Instead of horror, however, he kept writing fantasy stories. After surviving high school as a goth with a purple mohawk, he studied English and Creative Writing at the University of Windsor.
When not writing, Joseph works as Lead Accounting instructor at Everest College. He also lectures to other businesses on outside-the-box marketing. He lives in Windsor, ON (right across the stream from Detroit, Michigan) with his husband, two cats, and shy-but-friendly ghost.
You can find Joseph at these links:
Read on for more!