Podcast: Play in new window | Download (Duration: 29:29 — 27.4MB) | Embed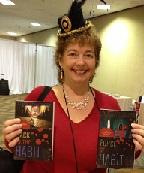 It was loads of fun interviewing Alice Loweecey! She's such a dynamic writer and just all-around awesome person. Of course, I might be a tiny bit biased since she was such a support and help to me when I first started submitting my draft query letters for feedback over on Absolute Write. But Alice's books are a much fun to read as she is to know.
Read on for more about Alice and excerpts from her interview!