Podcast: Play in new window | Download (Duration: 1:14:14 — 68.4MB) | Embed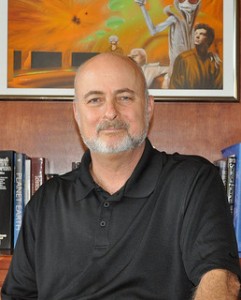 Award-winning author David Brin is a scientist, futurist and our guest here at MythBehaving. I've been a fan of his novels for a very long time and it was an honor to get to interview him.
About David Brin
As a scientist/futurist, David is seen frequently on television shows such as The ArchiTechs, Universe, and Life After People (most popular show ever on the History Channel) – with many appearances on PBS, BBC and NPR. An inventor with many patents, he is in-demand to speak about future trends, keynoting for IBM, Google, Procter & Gamble, SAP, Microsoft, Qualcomm, the Mauldin Group, and Casey Research, all the way to think tanks, Homeland Security, and the CIA.  (http://www.davidbrin.com/speaker.html)
With degrees from Caltech and the University of California-San Diego, Dr. Brin serves serves on advisory panels ranging from astronomy, NASA innovative concepts, nanotech, and SETI to national defense and technological ethics. His nonfiction book The Transparent Society explores the dangers of secrecy and loss of privacy in our modern world. It garnered the prestigious Freedom of Speech Prize from the American Library Association. (http://www.davidbrin.com )
Read on for more about David Brin!