Constructing Marcus by Danielle DeVor
Maer's Review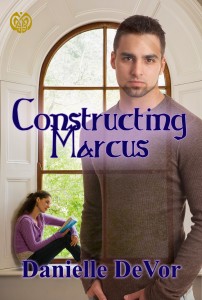 I was pleased to read Constructing Marcus as part of Daneille DeVor's Book Tour. And what a fun read this was! From the first pages I was hooked into sixteen-year-old Emma's life. With her penchant for ghost hunting, dealing with a mother's illness and a move to a new city and home, our young heroine grabs you up and takes you on her journey of exploration and discovery. This isn't just a paranormal novel where Emma sleuths to track down the secret of the house and its unusual resident, but it's also a coming of age novel. Emma discovers depths of her own in this intriguing book.
DeVor has captured the essence of a teen dealing with the paranormal shes always wanted to find. The pace is fast, the characters interesting and story engaging. DeVor's writing is crisp and the first person narrative works perfectly to draw in the reader. Descriptions are just the right amount for a Young Adult novel, and give an outline that allows the reader to fill in the rest with their own imagination.
Sweet without becoming saccharine, Constructing Marcus is a perfect read for a Sunday afternoon.


Welcome to the Book Tour & Giveaway for Constructing Marcus by Danielle DeVor. You can find Danielle's complete tour schedule at MythBehaving Book Tours.
Read on for more about Danielle and Constructing Marcus…