Podcast: Play in new window | Download (Duration: 45:06 — 41.7MB) | Embed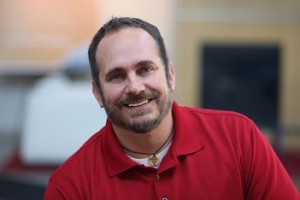 What a treat today's guest is! Author of the intriguing and enchanting Muse Unexpected, V. C. Birlidis is as fun and engaging as his novel. I've had the pleasure of getting to know the fabulous V through Facebook and other social media and his sense of humor and kindness have struck a chord with me. Join me in finding out more about this fascinating author.

For Vasilios Constantine Birlidis (V.C. Birlidis), the road to getting published has been a long one. The inspiration for his novel, Muse Unexpected, was ignited when he was a child, due to his father reading to him from a worn paperback about the Greek Myths. The myths were certainly not the sort of bedtime story to read to a nine year old with an overactive imagination, and although he often begged his father to read another one, Vasilios experienced many sleepless and anxiety filled nights during his childhood.
Beginning in junior high, Vasilios began to search for an outlet for his bottled-up creativity and auditioned and won placement in The New World School of the Arts (Formerly PAVAC), in their Musical Theater program, but it was during the summer of his 16th year that Vasilios discovered a true outlet for the creativity he didn't know how to express. Always having been a fan of the ballet, Vasilios began taking classes at the renowned ballet instructor/studio, Martha Mahr School of Ballet. It was during the many grueling classical ballet classes where the overweight teenager was transformed into a strong, confident and lean individual.
Vasilios went on to perform with The Miami Ballet, BalletMet Columbus and Columbus Youth Ballet.
Read on for more about V and his book!