Watching Swifts by RJ Askew
Lucy's Review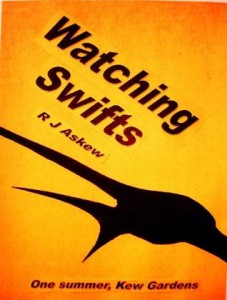 This book is one of those that keeps popping back in your mind. Prose and verse, or verse written as prose entwined with verse.
I was drawn into the mind and world of the swift man. This author has the rare ability to capture his reader with a form of prose which keeps you wanting more. I had to know what happened with him, his antagonist (the female photographer he's talking to) and the swifts. Yes, the swifts, those lovely birds, the harbingers of summer and hope for better times. When things ended different from any 'regular' novel would I was actually glad. I felt happy for the swift man, the swift, and the gardener, I felt sorry for the photographer who inadvertently lost her chance of life anew. Or had she?
The form this novel is written in allows for a play in the head of the reader. It is narration and little dialogue and yet, you can imagine the dialogue that is there nonetheless. A monologue and yet it is not, for he isn't't there alone on stage, on the pages, the other characters are there too. Flesh and bone, you care for them, you loath and turn to feel sorry for them. Or even cheer them on.
The language this author uses has a rhyme and a rhythm to it which almost at times feels archaic, yet very now.
It is a book that touched me. It shows feelings, inner turmoil and resolution to be more than one thinks one can ever be. This book is isn't one to read swift, but to cherish and reread passages, sentences, for they seem to be unlocking emotions and thoughts on a level not many modern day novels do.
I give this book a solid five star classification and recommend it to all readers ready for something literary for a change instead of the usual summer fluff read.

Read on for more about this intriguing book and the author.

Watching Swifts
Jaded war photographer Emma Saywell wanders through the dappled beauty of London's Kew Gardens, 'Broken', her hack-about old Nikon, hanging around her neck.
Her second book, 'THE EYES OF WAR', is selling well. Yet after a decade looking into hollow eyes, capturing men at their worst, her personal focus is a micron out.
She watches a woman with two young girls. One, the younger, trips, falls, screws up her tiny face, crys silently. Then she sees him. 'Broken' glides to her eye in one instinctive movement.
Click, click. Nailed him. Click.
Why is he smiling so inanely? Why smile like that, selling ice-cream to tourists from a cafe with a few tables? And what's with all the glancing at the sky?'
She looks up herself, half expecting to see an American drone stooging around. Nothing but fat dreamliners heading for Heathrow. She's drawn to the ice-cream seller, has to find out…

RJ Askew in His Own Words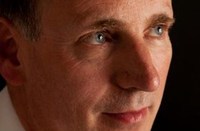 I…
…write mostly in the morning, swim as often as I can, love conversation and creativity. I studied law, sold ad space, became a copywriter, a reporter, then an editor. Married with three children.
You…
…are more important than I in this. I am just the conduit through which a few notions find their way to you. If you find any pleasing then I will be happy. You are at the beating heart in all this.
We…
… are made the more by the stories we love. We don't hold them in our minds every day, but they do seep into us, become a part of our deeper selves. This is a great and beautiful thing.
You can buy WATCHING SWIFTS
 at Amazon.
You can find RJ at these links: