Podcast: Play in new window | Download (Duration: 40:11 — 37.2MB) | Embed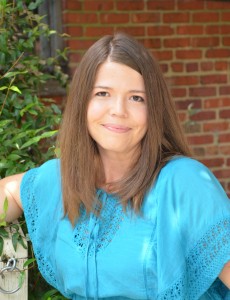 She's back! That former intrepid reporter, current best-selling author and my good friend, LynDee Walker. And now she's followed up her smashing debut novel, Front Page Fatality, with another success in her sequel, Buried Leads. Both are from her acclaimed series, A Headline in High Heels Mystery.
 About LynDee Walker
LynDee Walker grew up in the land of stifling heat and amazing food most people call Texas, and wanted to be Lois Lane from the time she could say the words "press conference." An award-winning journalist, LynDee traded cops and deadlines for burp cloths and onesies when her oldest child was born. Writing the Headlines in High Heels mysteries gives her the best of both worlds. LynDee is a member of Sisters in Crime and James River Writers. BURIED LEADS is her second Headlines in High Heels mystery. Her debut, FRONT PAGE FATALITY, is an amazon multi-chart #1 bestseller. A Headlines in High Heels novella will be in the anthology HEARTACHE MOTEL, on sale Dec. 10, 2013, and the third novel in the series, SMALL TOWN SPIN, is coming in April 2014.
LynDee adores her family, her readers, and enchiladas. She often works out tricky plot points while walking off the enchiladas. She lives in Richmond, Virginia, where she is working on her next novel. You can find her online in any of the usual social media places or at www.lyndeewalker.com.
Read on for excepts from LynDee and more about Buried Leads!
About Buried Leads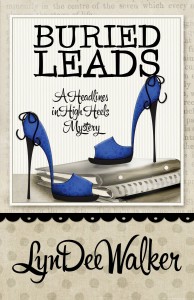 When an Armani-clad corpse turns up in the woods, crime reporter Nichelle Clarke smells a scoop. A little digging, and Nichelle uncovers a web of corruption that stretches all the way to Washington, D.C. Politics. Murder. And a dead lobbyist. It's everything Nichelle's ever dreamed of.
The cops are playing it close, the feds even closer, and Nichelle's afraid her boss will assign the story to the political desk any day. Richmond's new ATF SuperCop makes an arrest before she can say "Louboutin," but Nichelle's gut says he's got the wrong guy.
Her sexy Mafia boss friend warns her off the case, her TV rival is hot on her designer heels, an ambitious copy editor wants her beat, and victims are piling up faster than she can track them down. As Nichelle zeroes in on the truth, it'll take some fancy footwork to nab this headline before the killer nabs her.
Excerpts from Episode 21
LynDee on her success: "I have wonderful readers who tell their friends about my books…"
LynDee on marketing: "My biggest goal every time I sit down and start a new manuscript is to have it be better than the one before it…"
Front Page Fatality
Kindle                                                             Paperback
Buried Leads
Kindle                                                            Paperback
Want to know more about LynDee? You can find her at these links:
LynDee's Webiste
LynDee on Twitter
LynDee on Facebook
LynDee on Goodreadsr
LynDee at Amazon