Podcast: Play in new window | Download (Duration: 29:29 — 27.4MB) | Embed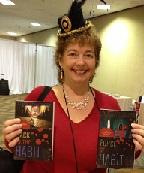 It was loads of fun interviewing Alice Loweecey! She's such a dynamic writer and just all-around awesome person. Of course, I might be a tiny bit biased since she was such a support and help to me when I first started submitting my draft query letters for feedback over on Absolute Write. But Alice's books are a much fun to read as she is to know.
Read on for more about Alice and excerpts from her interview!
 About Alice Loweecey
Alice is a former nun who went from the convent to playing hookers on stage to accepting her husband's marriage proposal on the second date. A contributor to BuddyHollywood.com, she is a member of Mystery Writers of America and Sisters in Crime. She is the author of Force of Habit, Back in the Habit, and Veiled Threat. The author lives with her family in Western N.Y.
Excerpts from Episode #8
Here are some excerpts from Alice's interview:
Alice on query letters:  "…the best book in the world would have trouble grabbing an agent or publisher's attention with a clunky query letter…"
Alice on tips for writing mysteries:  "Plan ahead. That is my biggest tip. I try to write so the reader solves the mystery along with Guilia…"
Veiled Threat
It's private investigator Giulia Falcone's second Christmas since leaving the convent. She's happy to be spending it with Frank Driscoll, even if his switching from boss to boyfriend and back again is giving her whiplash. But Giulia's holiday is darkened with disturbing news from her friends Anya and Laurel—their adopted baby girl has been kidnapped. When she learns that two kidnappings in nearby communities, both involving same-sex couples, ended with devastating fatalities, Giulia is more determined than ever to return the infant girl to her mothers. With Frank reluctantly backing her and the understaffed police offering little assistance, Giulia goes undercover to snare the kidnappers before they can do further harm.
Kindle                        Paperback
You can also catch the first two books in "A Falcone and Driscoll Investigation" series at the links below:
Force of Habit
Kindle                        Paperback
Back in the Habit
Kindle                        Paperback 
Want to stay up to date on what's happening with Alice? Here are her links: